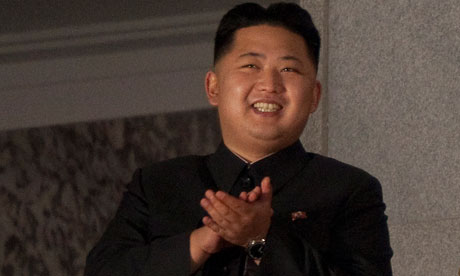 Rumours of the future leader of North Korea's supposed plastic surgeries were rampant from the moment he was revealed to the world last September. While there's really no new evidence now, the speculation has been spreading through the media outlets lately. Why? According to the Chosun Ilbo, half brother and once a potential threat to Kim Jong-Il's succession to leadership, Kim Pyong-Il (the guy in the hat) has been placed under house arrest as well. Purportedly, Pyong-Il has a closer resemblance to the deceased Great Leader Kim Il-Sung, a figure still well respected in North Korean hearts and minds despite a quiet resentment for his son, Kim Jong-Il. The idea behind the surgeries according to the president of Open Radio for North Korea:
"Half the procedures were designed to make his face resemble Kim Il-sung and half were intended to give him the same profile."
There's another thing that makes people resemble other people: genetics. However, former personal sushi chef to Kim Jong-Il, Kenji Fujimoto had stated that the Jong-Un revealed to the world last year does not resemble the precocious teenager he recalled from his time there. If true about the surgery, they did a pretty good job. Wonder if those surgeons are still around today?